Does hubby / boyfriend / dad / brother have a bunch of old t-shirts they don't want anymore (or ahem, won't notice if you take)? Here's an easy way to get another round of use out of them! I used 3 t-shirts and some scrap knit fabric to create a striped colorblock maxi dress. I've been in love with the combination of grays and yellows for a while but it is so HARD to find fabric that uses these colors. Rather than continue my search, I decided to make my own "fabric." :)
DIY Striped Colorblock Maxi Dress
DIY Looped Rope Necklace
See tutorial after the jump :)
What I used
:
3 of hubby's old t-shirts (dark gray, light gray, and gold)
1/4 yard of jersey knit fabric (in as many colors as you'd like - I used 2: cream and pale yellow)
A dress that fits you well to trace onto your maxi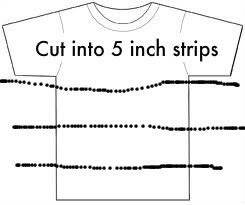 Step 1
: Cut hubby's tee into 5 inch strips horizontally starting from the hem up. Stop before you get to the sleeve area. I was able to get about 3 - 5 inch strips from each tee. You can also use thinner strips if you prefer. Repeat with the other tees or any other jersey fabric. Each strip should wind up looking like a loop.
Step 2
: Sew these strips together in whatever color order you'd like. You should now have a tube. I wound up using 11 strips for my maxi tube.
Step 3
: Take an existing dress that fits you well and trace. I didn't take a photo of this but there's another tutorial that uses this method
here
(see pic in Step 5). Remember to allow a little leeway for seam allowance. Sew along your lines, then finish your hem, armholes, and collar by folding in the edges and sewing them.
Voila! You're done!
I can't wait to play with different colors to make a skirt (post-pregnancy of course)! What colors would you use?