Can you sew a straight line and fold fabric into a rectangle? If so, you can sew your own maxi dress! This is my second foray of using my dress form to make a dress rather than a pattern. Interested in the 1st foray?
Click here for the Easy, Draped Maxi Dress Tutorial.
This asymmetrical maxi dress features a draped arm opening and off-the-shoulder sleeve.
And if you were interested in seeing what a 6-month pregnant lady looks like in it: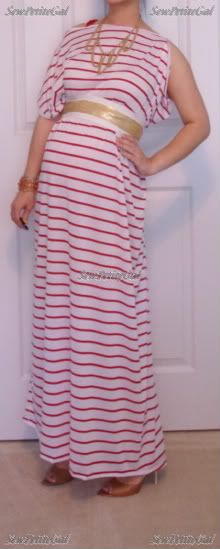 Want to dig into the tutorial? It's right after the jump :)
What you'll need:
~2 yards of 60" wide jersey fabric
Trim for braid (optional)
Coordinating belt / accessories
1. Arrange your fabric so that it's folded in half the long way (like a book) with the wrong side of the fabric facing out. Pin the top open corner together to keep your position in place.
2. Slip your fabric on (or put it on a dress form). On the folded side, approximately 10" from the edge, pinch both edges of the fabric and pin. This is your arm hole (step A in the first tutorial photo) - make sure this comfortable - not too tight and not too drapey.
3. On the opposite side, just past the shoulder, pin the top all the way until the edge. Mine turned out to be approximately 8" from the edge. This is Step B from the 1st tutorial picture.
4. Leave about 14" open for the "sleeve". Pin right after 14". You will sew right down the side all the way to the bottom. This is Step C from the 1st tutorial photo.
5. Take your dress off and sew in all your pinned areas. Then hem your dress. Make sure it's not too long or too short. This is Step D from the 1st tutorial photo.
6. (Optional) Add some braided trim to the open shoulder. I used red grosgrain ribbon, braided it and sewed it in place. This is Step E in the 1st tutorial photo.
You are done! I left all my edges raw except the hem since jersey doesn't fray but you can also choose to finish them.
Now wear it, belt it, accessorize and rock it! :)