GIRL!!!
So I have to admit that I've been collecting Baby Girl items for an eternity (even before I was pregnant with my son). And though I very badly wanted a girl, I was expecting another boy this time around because this pregnancy is SO similar to my 1st. I gasped and started crying as soon as the ultrasound tech told me the news. I cannot wait to start buying little headbands, bows, and outfits!! Plus, now we can sew matching Mommy - Daughter ensembles (she won't even know to be embarrassed by that until way later LOL)!
Baby girl items I've already amassed - some CK dresses, a RL dress, and Burberry tights (cause Momma loves Burberry).
I had 32 comments and 20 of them guessed GIRL. You all must be psychic :D
And finally, (sheesh this is a jam-packed post) here's a photo of me on Mother's Day with my little guy and little gal :)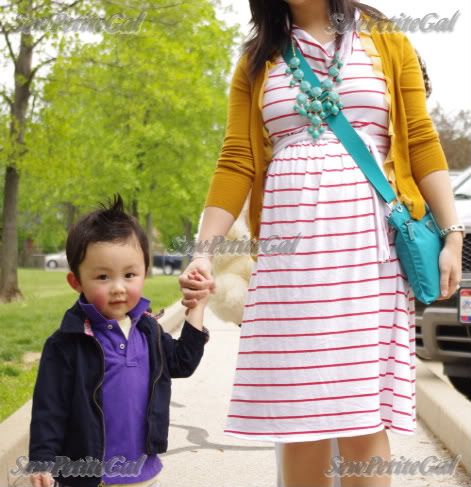 Note the cut off legs - this is a hubby photography trademark LOL.
Cardigan: J. Crew
Merino Chiffon-Placket Cardigan
,
Gold, XS
Necklace: H&M Turquoise Statement Necklace
Bag: Prada Nylon Messenger