We took a mini-trip to Chicago to visit family and I got to visit a huge H&M store with 2 stories. The selection in this store was amazing! Makes me so envious of all the ladies who get to frequent larger, metro-area H&M stores.
Striped Dress, Sz 6, $49.95
I've been on the lookout for items that mix blue with green lately and this dress looked absolutely gorgeous on the hanger. The color combination was exactly what I was looking for but the top portion was too puffy for me and the skirt really emphasized my hips. I think this dress would look much better on gals with a slimmer silhouette.
Verdict: No, makes me look big on top and bottom - yikes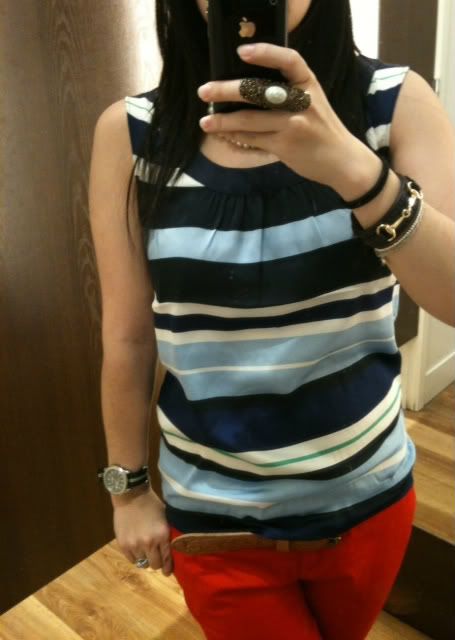 Striped Top, Sz 4, $29.95
After the dress fail, I picked up this top hoping I could just recreate a similar look with it. It runs a little big since I've been wearing size 6 in H&M post-pregnancy and this size 4 fits with room to spare. I think I could have made this work by tucking it in but the only green it had was one tiny stripe by the belly button.
Verdict: No, but second-guessing myself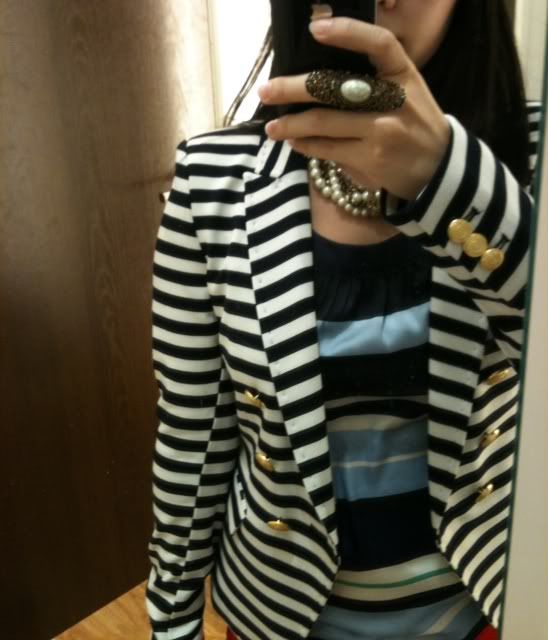 Striped Blazer, Sz 6 $49.95
This blazer looked so good on
Kelly
that I wanted to try it. It definitely runs small - I could barely button it and when I did, I looked like I was about to Incredible-Hulk out of it. The thought of sizing up hurts my ego which is admittedly more fragile post-partum :P
Verdict: No, but it is lovely on smaller gals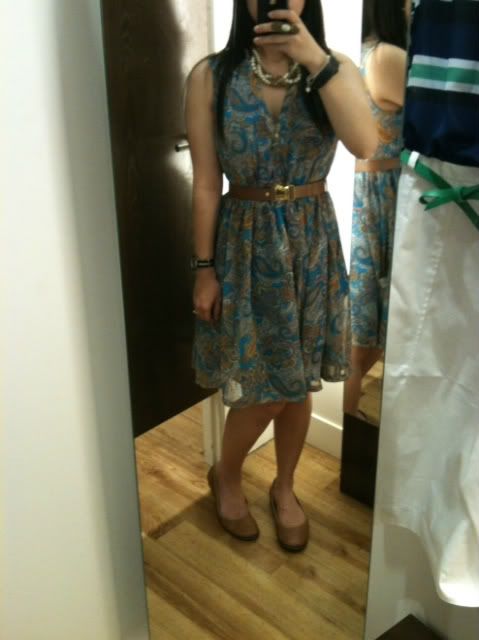 Blue Paisley Dress, Sz 4, $29.95
After seeing Jean (
review post here
) tweet about this dress, I fell in love with the paisley print and was determined to find it. I thought the print looked lovely in person but I felt like the dress made my top look too wide (this whole nursing thing makes me hyper-conscious because I'm so used to being completely flat). At least it did not call attention to my hips :)
Verdict: No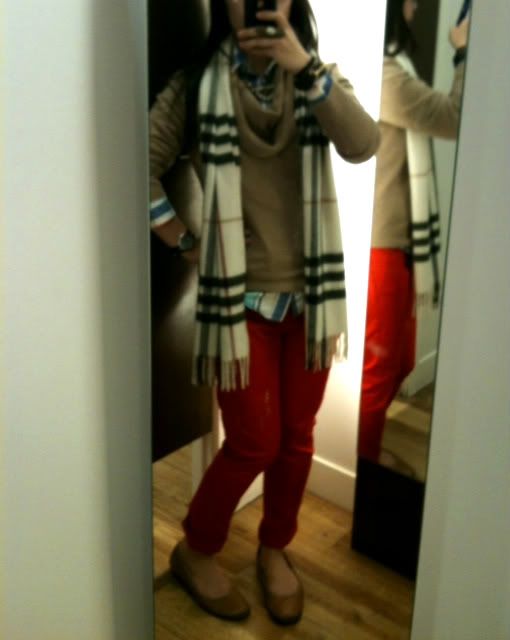 My shopping outfit to keep warm in the brisk Chicago weather:
Old Navy Plaid Shirt
Banana Republic Cowl Neck Sweater
Burberry Scarf
New York & Co Red Pants (slimmed, alteration post
here
)
Clarks Camel Flats
Another shopping trip without any purchases. I am doing so well on a shopping resolution that I didn't even make!
After shopping, we stopped by Mitsuwa, a Japanese supermarket with an amazing food court. Don't let the grocery-store looking sushi fool you, the fish was super fresh and everything tasted restaurant-quality.
Shoyu Ramen, Sushi, and Green Tea-ccino (sooo yummy!)
And so my search for the perfect paisley dress continues (holy grail being Jean's J. Crew
here
). I've also been trying to look for the perfect fabric to try a DIY version but so far only these sheets (from my uncle's house) have caught my eye. I will now be stalking paisley bedding as well :)