I'm always intrigued with Target designer collaborations but I think the Jason Wu collection is my favorite thus far. I arrived at the store right when it opened and joined the group of ladies making a beeline straight to the Jason Wu items. I'm happy to say that everyone was very calm and very nice about shopping. We even exchanged sizes in the fitting room with each other :) I was disappointed that my local store didn't have the Navy Poplin Dress but I did get my hands on other things to try.
Sleeveless Chiffon Dress in Navy Floral, XS
Since this is a pullover dress (no zippers / closures), it was designed to be a little tent-like and then cinched at the waist with the belt. Unlike many dresses designed like this, it did not create unsightly bunching at the waist - a big plus. The chiffon was multi-layered and the effect was a nice, flow-y effect. The fit is just a little large. My true, non-vanity size is probably a Small 4 months post-partum but this XS fits me fine and still has room to give.
Verdict: Yes
Blouse with Tie in Blush Dots, XS
I loved the concept of this blouse with the contrasting trim but I don't think the color works on me. I'm a little sad about it because it was soooo pretty on the hanger. When I looked at this blouse, I thought it was also a pullover type because the placket was actually pretty well-hidden to me (or maybe I'm blind) but it has snap buttons running down the front.
Verdict: No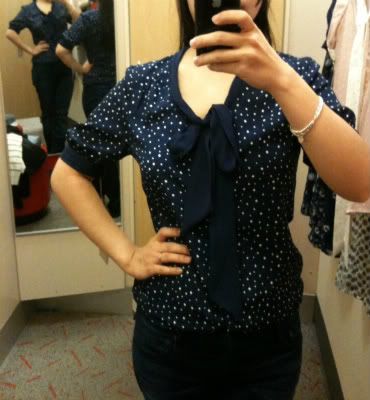 Blouse with Tie in Navy Dots, XS
I tried the navy version and thought it was a much better color on me. Untucked, it looks rather large but tucking makes a big difference. I think this would look cute with a bright skirt or cuffed pants and flats.
Verdict: Yes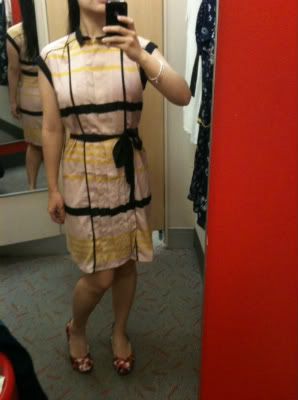 Sleeveless Printed Shift Dress in Blush Stripes, XS
Here's another dress that looked cute on the hanger but not on me. I look a bit wide up top and that gives me more of a matronly effect than I'd like.
Verdict: No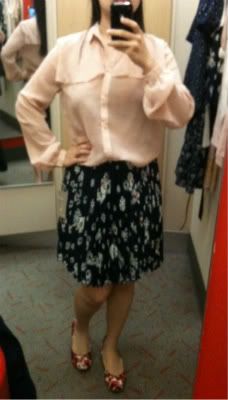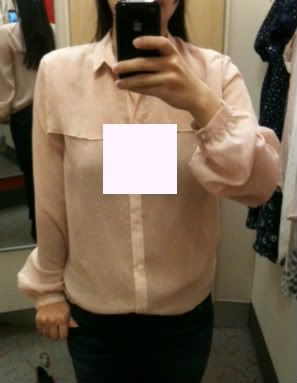 Long-Sleeve Sheer Blouse in Blush Dots, Sz S
Sorry about the square - it was a little sheer and I'm a little shy about not having a cami underneath. This was the only shirt I couldn't find in XS so I grabbed a Small instead. I originally tried this with the skirt and thought it was a resounding "no." Tucking into a lower slung bottom made it far less poufy. The sleeves are long but since the cuffs are narrow, it gives a nice ballooned, feminine feel.
Verdict: Yes, though I'm not sure why I think the blush color in this blouse seems better to me than the first one.
Pleated Skirt in Navy Floral, Sz 2
As for the skirt, the way it nipped in the waist and flared out accentuated my mommy hips in a not so flattering way. Such a cute print though! I think this would work on a different body type. Size 2 was true to size.
Verdict: No
Did you buy anything from this collaboration?