I originally set out to create sequined cuffs but when I saw all the elasticized sequin trim, I realized that a sequined cuff could be made simply by sewing the ends together. So instead, I decided to make interchangeable studded cuffs that could be worn with any sleeved shirt.
See tutorial after the jump...
What I Used:
4 pieces of 6x10" fabric rectangles OR cut cuffs + 2 inches of sleeve from an existing button-down shirt
Trouser socks (socks that look / feel like pantyhose but only go up to your ankle)
20" Studded trim (purchased mine at Joann's but should be available at other sewing stores)
Fabric Glue
Materials - I used black fabric and black trouser socks.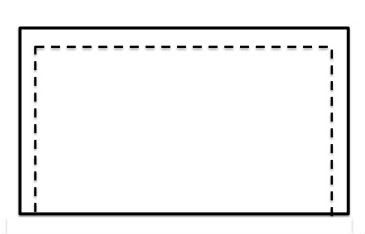 1. (If you are using existing cuffs / sleeves, cut your sleeves at 2 inches above the cuffs and then skip to Step 4) Take 2 of your rectangles with the wrong sides out and sew together at the 3 sides as indicated by the dashed line above. Then do this with the other 2 rectangles.
2. Flip it inside out.
3. Take your trouser socks. Measure from the cuff down 8" and cut.
4. Sew the unsewn end of your rectangle (or sleeve) to the cut end of your trouser sock (opposite the cuff) overlapping by about 1/4".
You might be wondering why I'm using a trouser sock. It's a really easy way to have a stretchy (to accommodate any part of your arm from wrist to mid-forearm), thin sleeve that won't add any bulk to whatever you're wearing. Plus I have a bunch of them that I don't wear. :)
5. Arrange your studs and fold your cuff to accommodate the height of your trim.
6. Iron at the fold.
7. Glue your studs down with fabric glue. (Optional - I also reinforced mine with some stitches throughout the trim.) Let glue dry and you're finished!
Now to wear, simply put on whatever you want. Slide your sleeves on and adjust where you want it to fall (I like to scrunch my sleeves to about halfway up my forearm). Then adjust your shirt to cover your sock sleeve so that only the cuffs are exposed.
Voila! A little sparkle and attitude never hurt anyone :)
On another note, the lovely Katherine of
Katattack2000
interviewed little old me on her blog - check it out
here
. :)
P.S. If you haven't already, click the button below to enter my hand-knit scarf giveaway! The winner will be drawn on 12/31.