As part of Chinese tradition, the mother typically stays home for the entire 1st month after childbirth in order to fully recuperate and recover. Baby Girl turned 1 month yesterday (and is just starting to get some baby fat - the best kind of fat!) so we went out to celebrate. We also, at my insistence, stopped by the mall :) Trying on clothes wasn't as bad as I thought it would be. I can wear my pre-pregnancy size in most items even though my belly and hips are larger than normal.
LOFT Cowl Neck Shell, Black / Gray, $21 in store (don't see online)
LOFT Scuba A-Line Skirt, Sz 2P, $69.50 (
buy here
)
Review: I really loved both items.
The shell is classic enough to be worn for several seasons and fits well enough for me to wear now and when I lose the rest of my baby weight.
I LOVE the color of this skirt! The fit is also good - the scuba material really cinches in my post-baby tummy. If this had been on sale, I probably would have bought it. Then again, considering I'll be on maternity leave for a year, I don't know that I really NEED an orange skirt if no one is going to see me anyway. Maybe I should make an orange skirt?
Verdict: Buy top and possibly stalk skirt until it goes on sale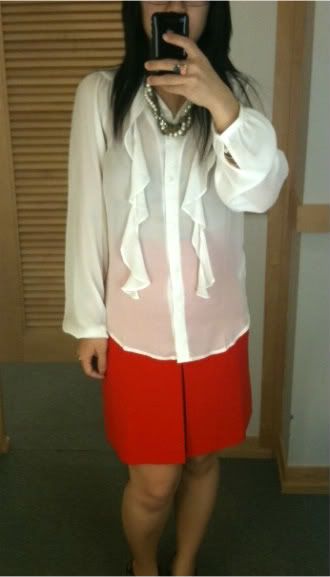 LOFT Tie Neck Long Sleeve Blouse, XS, $17 in store, (
buy here
)
Review
: This shirt has been on my mind ever since I saw
Kerry blog about it here
and I couldn't resist trying it on when I saw it. It's so pretty and makes me feel "grown-up" LOL. It's sheer so I'll definitely be wearing a cami underneath and even though it's a regular XS, I feel like it fits decently since blouses are by definition blouse-y and fuller than normal shirts.
Verdict: Buy - $17 is a great price!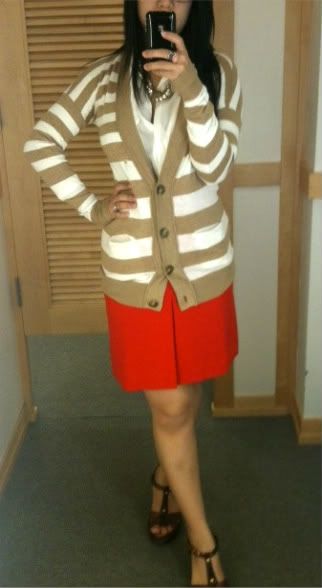 LOFT Long Sleeve Striped Boyfriend Cardigan, XS, $21 in store, (
buy here
)
Review: You know I'm a sucker for stripes and cardigans. So a striped cardigan? Fuggedaboutit! I like the wider stripes of this knit and that it's different from my typical navy / white combination.
Verdict: Buy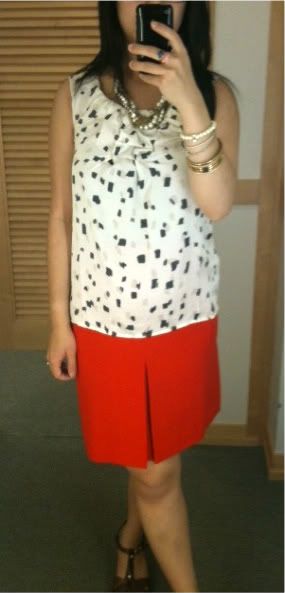 LOFT Printed Shell, XSP, (don't see online)
Review: You can't really see it in this picture but this shell has some interesting pleating / tucking details at the neck. I was drawn to this and the print but once I put it on - Yuck! The shoulders / chest part fit fine but then it billowed from there and unfortunately, the fullness of the bottom of this shell makes me look crazy wide.
Verdict: NO
Total shopping damage was $59 - $15 cardmember birthday gift - $20 LOFT rewards card = $24 + tax. Not bad!
Trench: Gap (old)
Tee: Gap (last season)
Dress: LOFT Outlet Shirt Dress, Navy Blue
Bag: Coach Navy Crossbody
Necklace: Target Chunky Pearls & Chain
Bracelets: Pearl DIY, Gold Bangles
Today's outfit was an experiment (gone wrong?) in layering. I like the trench look but when I take that off, the tee + dress looks "off." Maybe a belt would have saved it? Or maybe this look can't be saved and shouldn't have been put together?
What are your "rules" for layering?