My go-to watch is running out of batteries. Somehow, rather than replace said batteries, I've been feeling compelled to search for a brand new watch instead. I am fascinated, and I really mean
fascinated
, by the striped watch bands offered by J. Crew for the men's collection. I have to admit it, J. Crew has me hooked and hooked so badly that I'm venturing out of women's and into men's (I've already ventured into kids' with the gingham shirt Cee made popular). The thing holding me back was that I have no idea how a men's watch face was going to look on my wrist. The watch face is 40mm which is considerably larger than my normal watches. Given that and knowing that a striped watch band will probably be paired with casual, preppy wear rather than as an everyday staple, I'm going to "Frankenstein" my own mens' J. Crew Timex Watch.
First, I took to the blogs and found this
nifty post from J. Crew Aficionada
on J. Crew Timex alternatives (but still using J. Crew straps). So off I went to purchase the Timex T40091 Field Expedition Watch from
Amazon
($30) for a super similar watch face and then 2
watch straps from J. Crew
, navy/bisque ($20) and olive/red ($9).
And the finished product looks like:
The watch face isn't as big as I thought it would be - a plus and I like the military feel of it! The strap is a bit long so I have to double it up. The navy/bisque strap is on back order until mid to late August.
And with a "revealing" (Hello- you can see my face LOL) ensemble (I'm taking a cue from Cee here - thanks Cee for the sunglasses trick!):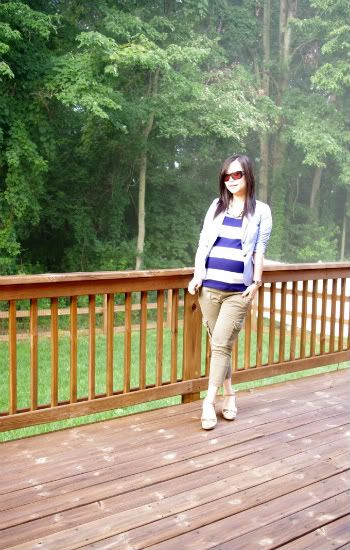 Tank: Old Navy, Striped Ribbed Tank
Blazer
: J. Crew Schoolboy Blazer in Summer Stripe, Sz 0 (
buy here
)
Capris
: Gap Maternity Skinny Cargo Pants (I cropped these bc I needed more air LOL - thanks
Gigi
for the maternity skinny idea!)
Shoes
: Tommy Hilfiger Illie Print Wedge Sandal (
buy here
)
Watch: Timex Face + J. Crew Strap
By the way, I felt incredibly awkward taking photos outdoors - I kept waiting for my neighbor to pop his head out and ask what I was doing. And this is from just being in the backyard. I gotta hand it to you bloggers who take photos outside AND in public all the time! Plus my shots were all overexposed because I left my indoor settings on - oops!
What are your thoughts on wearing men's garments / accessories?