The days are getting shorter and cooler, a sure sign that fall is just around the corner. As much as I love fall, I'm going to miss the bright color combos of summer! This dress is actually a reddish-orange but it photographed more of a cherry red.
Dress: The Limited Flutter Jersey Dress
Belt: Lands' End Canvas Nautical Rope Belt
Necklace: H&M Turquoise Necklace
Shoes: Those 15-year old comfy sandals!
Sunnies: Gucci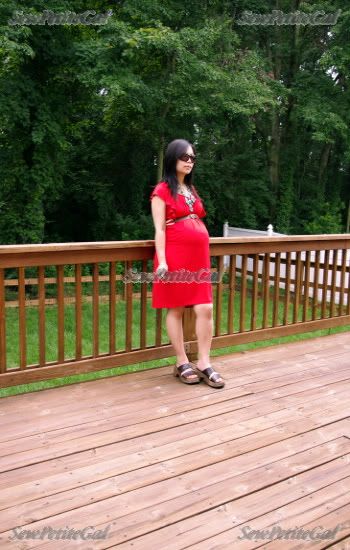 Week 34 of the pregnancy and I have a random elevator conversation to share:
A lady (excitedly): "Are you having twins?!?"
Me: "No, we just have the one baby in there."
Lady: "So your baby is just measuring very large then?"
Me: "Um, no, she's measuring right on track."
Lady: "Oh."
I was a little annoyed that she was implying that I was way beyond the normal size of a pregnant woman when I've only gained ~20 lbs but at the same time I know she didn't mean it maliciously. Just comes with the territory I guess!
I don't know if anyone checks, but I'm behind in responding to comments - I'll catch up soon, promise!