Ok, I admit it, I knew what I was getting myself into before I even bought these. I had heard stories about TB Revas being uncomfortable or taking a long time to break in. Given that I have relatively wide (and somewhat sensitive to pain) feet, the chances of me finding them comfy right off the bat were slim to none. BUT they are so darn cute and were on sale! So I decided to give it a try, telling myself that if they were unbearable, I'd just return them or try to see if anyone wanted to buy them from me.
Tory Burch Afrikan Reva Ballerina Flat in Razor Blue
They feel ok for about the first few hours of being in the office (not much walking required) but then the elastic heels dig in and the tops / sides of my pinky toes start to get squished. :( I've heard of the freezer trick but my freezer is jam-packed with food so I'm going to try a shoe stretcher and see how that goes. I do absolutely love the color and general look of the shoe though!
I also got a pair of flats from Banana Republic about a week or so ago:
Banana Republic, Macrame and Leather Flats
These are so crazy comfortable! I love them! I don't see them online but my store had quite a few in both navy blue and orange so check your store out if you're interested.
If I could build the perfect flat, it would look like the Revas but feel like the BR flats.
And finally, the yellow Target wedges I mentioned in a previous post: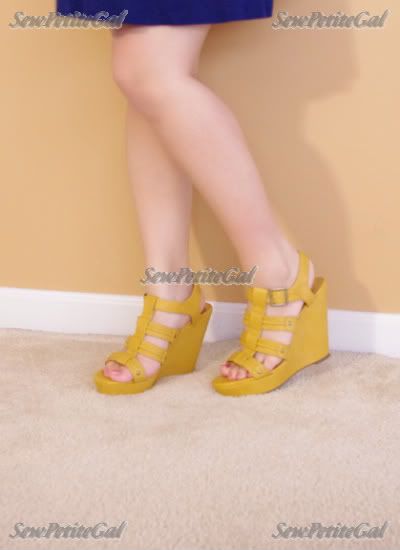 Target Xhilaration Teala Wedges, see also on
Jean
These are weirdly comfortable. Don't get me wrong, I can't walk miles and miles in them but a typical work day is fine (my office environment is mostly desk work and business casual).
Do you have any advice on breaking shoes in?