This gold striped cream cardigan was an Ann Taylor find from the Memorial Day sales. With the additional 40% off sale, it was only $24 and I quickly snagged it. I love stripes and though I have a bevy of striped garments already, I couldn't resist adding a gold version to my closet for such a great price :)
Here I paired it with some gold jewelry and classic semi-neutrals: a navy blue ruffled shell + an olive skirt (while I was at it, I wanted to show another example of wearing "normal" clothes during pregnancy - here's me in the olive skirt both later in the pregnancy and earlier when I wasn't technically "showing" yet):
Left: 23 weeks pregnant Right: Same skirt, 11 weeks pregnant
Cardigan
: Ann Taylor Metallic Striped Cardigan, SP, $24 in-store (
buy here
)
Shell: Gap Navy Blue Ruffle, XS
Necklaces: Tassel Necklace from Old Navy and Dangle Charms from Banana Republic
Skirt: J. Crew Canvas Military Skirt, Sz 0
Shoes: Frye Joy Vintage Slide (buy here)
And a closer view of the necklaces, stripes, and ruffles: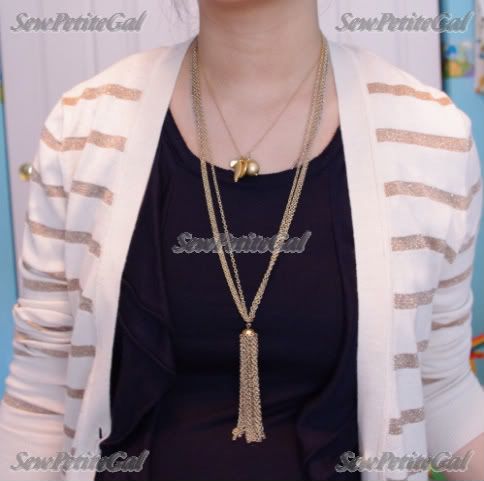 I love that you can get cute necklaces from virtually anywhere - Old Navy, H&M, F21, Target, etc. They're not always built for durability but they make for some good pieces of visual interest. Where do you get your jewelry?