I did quite a bit of damage at the LOFT outlet a little over a week ago. They had an extra 25% off sale items and then 40% off select items. I felt a bit like my 2010 self when I bought all of it but I think they were all very good deals and definitely things that I did not feel lukewarm about. I originally took iPhone fitting room photos but then found that my toddler has figured out how to delete photos :P
First up, is an Navy Blue button down shirt with white polka dots in XS. This shirt runs a little big like all LOFT (regular store and outlet) XS items. If you are my size, you'll find that it is a tiny bit loose so tucking in is your best bet.
Top: LOFT Outlet, Blue & White Polka Dot Blouse, XS, $24.99
Necklace: Long String of Freshwater Pearls
Brooch: Cameo with Pearl Dangle (can also be worn as a pendant)
Belt: Talbots Gray Croco Belt
Pants: Banana Republic Pinstripe Trousers
Shoes: Gucci Magenta Wedges
Next is a Navy Blue shirt dress in Size 0. Again, this runs a bit big and fits more like a true size 2 (sorry about the overexposed shot, I'm still fiddling with settings on my camera). I think this is a great staple piece that will look nice with different accessories. I don't think I did a very good job here. How would you wear it?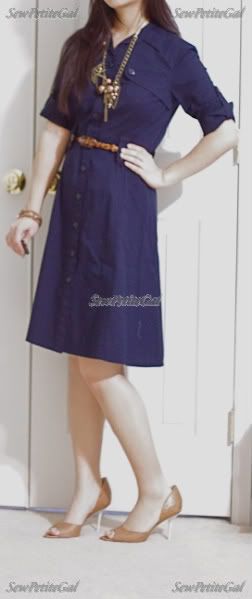 Dress: LOFT Outlet Navy Shirtdress, Sz 0, $24.99
Belt: The Limited Leopard Print Belt
Shoes: Gucci d'Orsay Pumps, Camel
Finally is this Black and White skirt in size 0 that was only $7! Once again, this fits more like a true sz 2.

Top: The Limited Red Button-Down Blouse, XS
Skirt: LOFT Outlet Black and White Skirt, Sz 0, $7
Shoes: Ann Taylor Perfect Suede Pumps, Granite
Not pictured, but I also bought 2 pairs of jeans for $5 each. What do you think - are these worthy of keeping? I'm leaning towards "yes" on all items :)