Well...not really. If the items had fit properly, you can bet that I'd have them checked out in a heartbeat! Here are the fitting room reviews:
Here it is in regular XS. As you can see, it's rather large and shapeless. I was disappointed because I found the sleeves and ruffle charming. If only there was either a little tapering at the waist or a slimmer silhouette! I couldn't find this in the Petite section in the store or online so it just wasn't meant to be. I briefly toyed with the idea of slimming it myself, but don't yet trust myself with that kind of task. Plus, if I do that, I might as well just make one from scratch.
This is another XS (couldn't be found in Petite) that fell in the slightly too large / boxy category. Another shame since I really loved the flecks of gold with this kind of plummy color, but I feel like I buy too many tops that I need to "fix" with belts or cinched in with cardis.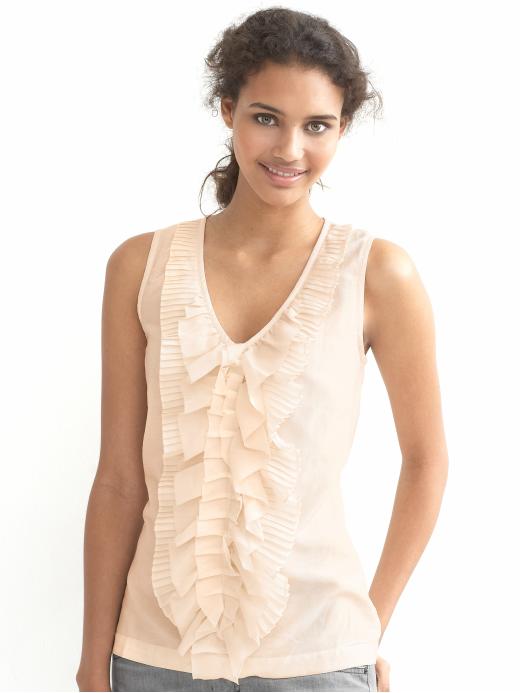 Sleeveless Ruffle Front Top, $59.99 (30% off online with code SAVEBIG), Banana Republic
Here's another XS. The silhouette is ok, but is still a little baggy and the top is a smidge too low cut for my taste. If it had been a better price (something in the $30-ish range), I probably would have gotten it because I love the ruffles, pleating, and color. I'm a little sad about the fruitless mall visit, but my wallet sure was happy about it!